What Is an All-On-4 Treatment Concept?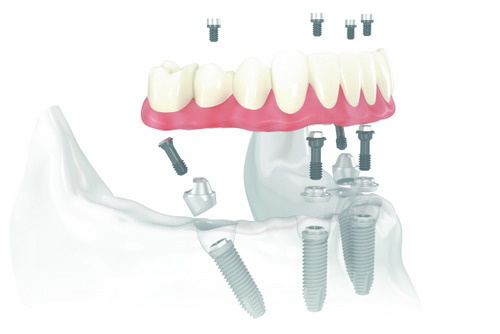 All-On-4 Treatment Concept is an innovative and potentially-graftless treatment option that provides patients a full arch of teeth using overdentures that are supported by four dental implants. This treatment uses groundbreaking dental technology to replace your teeth quickly and effectively.
What Does an All-On-4 Treatment Concept Involve?
At Cassity & Legacy Implants and Periodontics, Dr. Cassity and Dr. Badger may recommend you All-on-4 Treatment Concept in case you have lost all your teeth and your jawbone does not have enough density.
All-On-4 Treatment Concept involves the use of four dental implants to support an arch of overdentures that is equipped with porcelain teeth. The implants are placed on strategic locations in the jaw to maximize the use of areas with denser bone. In addition, the back implants are longer and tilted at a 30 to 45-degree angle since the bone at the back of the jaw is typically denser. This provides more stability to the overdenture.
Since All-On-4 Treatment Concept makes the most use of your existing jawbone, it can dramatically reduce the chances of you getting a bone graft to augment the hard tissue in your jaw. This means that the total treatment duration is lower since patients do not have to wait months for their jaw to regenerate bone.
Aftercare for All-On-4 Treatment Concept
You will need to be careful of what you eat after getting an All-On-4 Treatment Concept. In the first six weeks of surgery, you will eat only soft or pureed food to allow your dental implants time to fuse to your bone and for your gums to heal properly. The fusion of the dental implants to your jawbone is known as osseointegration and it is crucial for successful implant surgery.
You will see some pain and swelling in the first few days but they can be easily managed by OTC painkillers. Once your jaw and gums heal completely, you are free to eat all your favorite food. If you are interested in the All-On-4 Concept, call us at (385) 626-0977 and schedule an appointment with us.